Make Data-Driven Decisions from Hire Through Retire
Hire Smarter - Cut hiring time by 55%.
Use your existing data and our external data sources to map internal employees and external candidates to your open roles based on their skills match. Giving you real-time, actionable and unbiased insights for more strategic hiring.
Retain Longer - Increase retention by 30%
Keep the right talent longer with tailored and auto-generated career pathing. Helping employees understand their futures, and helping you future-proof your organization.
Develop Your Talent - Accelerating upskilling by 27%
Customize your learning and development programs to each and every employee to ensure they continue to grow and nurture the skills they need today and the skills you'll need for the future.
retrain.ai took our data to the next level, providing actionable insights and an x-ray vision to our workforce's key metrics and help us strategize our workforce plans base on accurate and granular data. With retrain.ai we gained visibility into the skills our employees have and where they could progress in our organization, providing employees and managers with a clear understanding of their skills profiles and best fit career opportunities.
Yael Rotem-Sher, Organizational Development Manager & Ifat Alfasi, Head of Learning & Development, Maccabi Healthcare Services
retrain.ai is going much further–looking at job clusters and job history to not only guess a person's skills, but also intelligently recommend what career path or job move should be next.
Josh Bersin, Global Industry Analyst, Bersin Academy
retrain.ai's platform has the most accurate and granular data based on skills and global labor market trends. Together, we are working to help thousands of people from a broad range of communities connect to training opportunities and career pathways based on real-time market insights
Ran Dudai, CEO of JDC
Ben Eubanks, Chief Research Officer, Lighthouse Research & Advisory
I was most impressed with the ability for an individual to not only see a skill gap analysis for an individual looking for a new role, but to also be able to see what types of training and development opportunities exist along with the time commitment and impact/effectiveness score. Upskilling and reskilling can feel like a soft, immeasurable concept, but retrain.ai makes it measurable and practical.
The failure of people to acquire new skills as the world of work changes is threatening long term economic growth. retrain.ai has perhaps the most innovative solution: its pioneering platform uses AI and market data to enhance employers' visibility of the diverse skills within their workforce, while empowering employees to understand the areas they need to upskill most.
Dr. Carl Benedikt Frey, Dir, Future of Work at University of Oxford
Transform data into information and knowledge.
Collecting data isn't the problem. Decoding what that data means? That's another story. Our world-class, responsible AI-driven talent intelligence platform rests atop your existing HCM technology, learning as it goes. Synthesizing your company data with the world's most comprehensive industry datasets enables you to move from merely managing talent to making the most of your workforce.
See How We're Different
eBook: Flattening the Unemployment Curve
Employee reskilling and upskilling are essential: but tackling massive workforce change—efficiently and at scale—seems like an impossible task.
Dr. Shay David, CEO of retrain.ai, outlines a pragmatic, data-supported vision for strengthening the workforce of tomorrow, starting now.
Get The eBook
When it comes to your workforce, there's no room for guesswork.
Fill Positions Faster with Skilled Candidates
With responsible AI matching, predict the best-fit candidates and accelerate the quality of hires, cut costs and put people in the right roles from hire to retire.
Upskill & Reskill Current Employees
Develop the talent within your organization quickly and cost-effectively. Use auto-generated, personalized learning paths to sharpen your employee skill sets today.
Identify Skills Gaps
Uncover where your organization's capabilities are misaligned with your current and future needs.  Start executing on actionable insights now.
Retain Top Talent
Our sophisticated skills matching engine uses skills, roles and job descriptions to connect employees to their best-fit career paths within your organization.
Map Skills to Future Jobs
With real-time market insights, uncover in-demand, emerging and declining skills to help shift your focus for hiring, reskilling and optimizing your teams.
Exceed DE&I Initiatives
Create a more equitable workplace by removing unintended biases from the hiring process, ensuring the hiring and promotion of the right, diverse talent.
Understand Industry Job Trends
Using real-time labor data, forecast which skills and jobs your organization needs to invest in today to get your teams future-ready.
AI is disrupting the labor market. We think that's a good thing.
Artificial intelligence has the power to put people out of jobs—or maximize human potential. Teaching machines how to determine where human talent will thrive and uncover the skills they'll need to succeed is the best use of artificial intelligence for the world's labor market. We started retrain.ai to build a stronger workforce for tomorrow, starting today.
Our Story
Inject more wisdom into your workforce planning.
Enhance your decision-making and build the workforce of the future with with responsible, AI-driven talent intelligence. Schedule your demo today.
Request a demo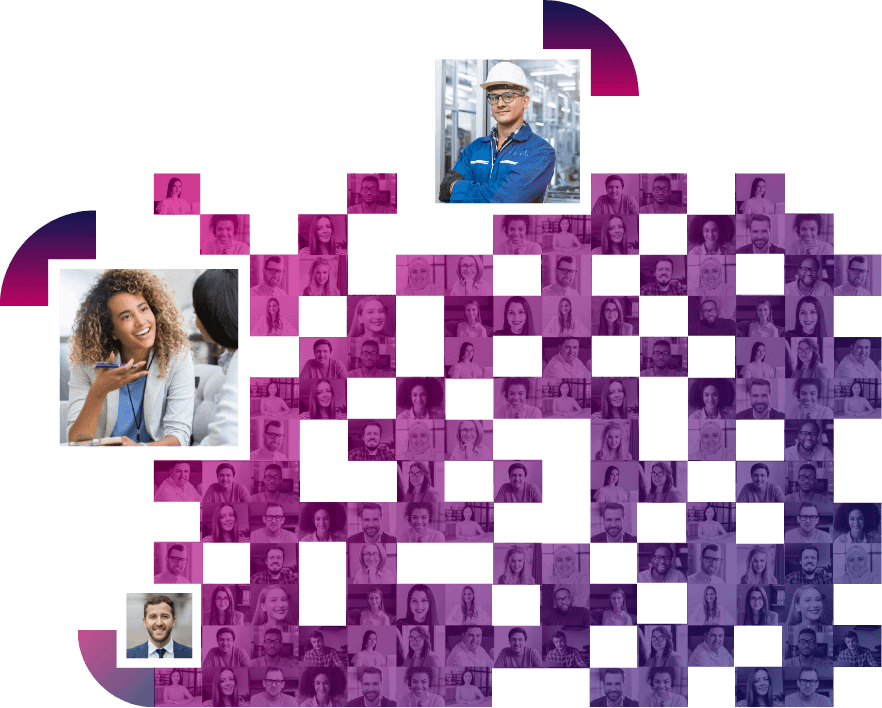 Building the Future of Work Together